At eleven, again photographed in school uniform – now a navy tunic, red and white striped blouse, school tie – my eyes are downcast, and there is the faintest trace of a smile on my face. I have long hair, and a fringe, dark blond. I am holding a little white dog, clinging on to it for dear life. This time I have no illusions about going to a new school.
Because of my failure to shine at primary school, and their native suspicion of posh places, my parents had not put me down for the Girls' High School. Instead they selected our town's comprehensive school, one of the first in the country. I was put in form 1D. My mother assumed that the streaming was alphabetical, and that I was in the fourth class out of six, but in fact the school's system was more subtle. Each year a secret word was chosen: in ours 'dix ans', reflecting the age of the school. So I was in the top stream, to my parents' amazement. My '11 plus' results had apparently surprised everyone. My mother thought I would not last long in the top class, and when I struggled with my first maths homework, she assumed it was the start of my descent to my rightful place.
But my teachers were idealists, who believed that education could bring about social equality. They seemed to think that like everyone else in 1D I could benefit from a grammar school style education, and because they believed that, I thrived. I began to learn French. The teacher, Miss Lewer, gave us all French names; mine was Lucille, who I imagined as a more confident, prettier version of myself. Miss Lewer said I had a good accent and asked if I had ever been to France. She was surprised when I replied in the negative. At the end of term there were exams. I had no idea how to prepare for them, but taking them taught me that you just had to learn stuff off by heart. Once I realised this I had more or less cracked it. My marks got better and better.
My success was still tinged with terror. My cousin Peter had died, when he was six, and I was nine. I grieved alone. In those days in my kind of family children did not go to funerals, and nobody talked to them about the loss. A few weeks before his death, on one of their visits to us, his mother recounted a new set of ailments that had befallen my poor cousin. Peter and I were playing in the vicinity and I heard every word. Perhaps he did too. I remember very distinctly thinking 'it's too much, he can't get better now'. Perhaps when he died I thought I was in some way responsible, because I had given up on him. In the final instance I had given up, despite all those times when I had tried to distract him from his sufferings with fairy stories and games.
When Peter died I gave up ballet and begged to be allowed to stay at home on Saturday mornings. I dropped out of the Christmas show, giving up my role as one of the ponies pulling Cinderella's coach. The other pony just had to do it on her own. Even though this was very awkward, no-one could persuade me to go back to rehearsals.
Then I became convinced that I was going to die too. I read a story in the Readers' Digest magazine about a little girl dying of liver cancer. I was sure I had the same symptoms. At night I would run into my parents' room, because my heart was beating too fast. My father would say wearily, 'tell me when it stops!' My mother took me to the doctor's and told him I was 'suffering with my nerves'. A light sleeping medication was prescribed to stop the night terrors. My parents got the little white dog for me, and took my picture in my new school uniform, as if the dog and my education might save me, and perhaps they did.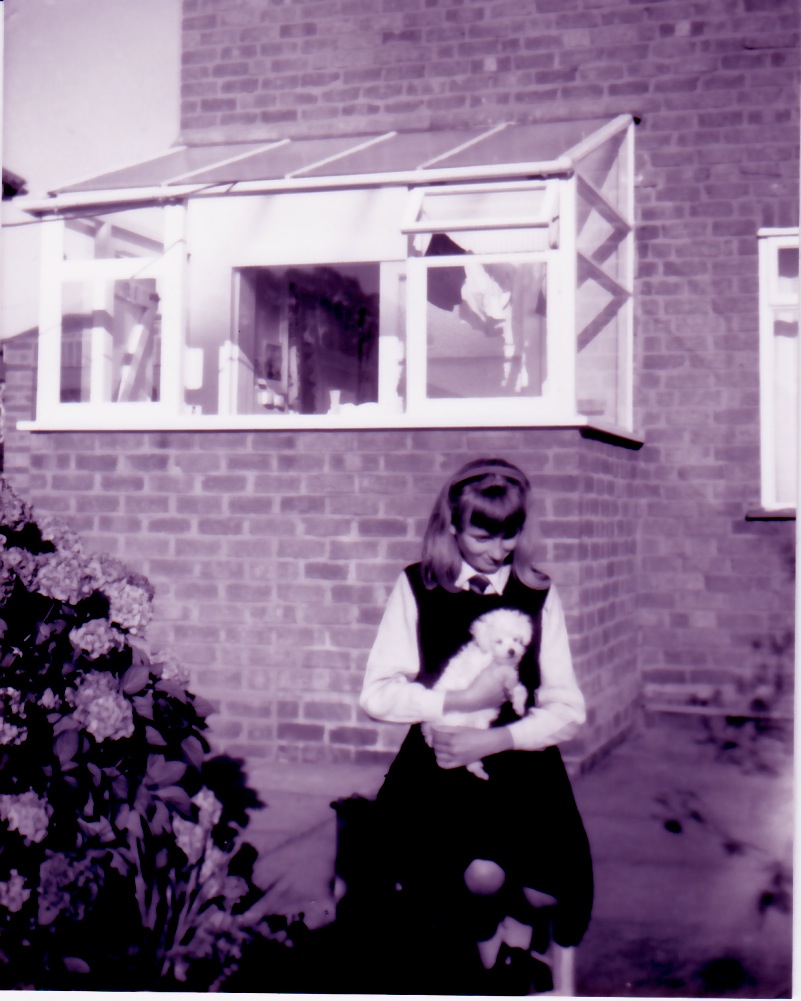 Regis School Uniform, 1964. The old coal bunker has been replaced by a 'verandah', ideal for drying washing….