During my spiky bleached hair à la Annie Lennox phase I invested in a rather startling summer outfit: lime-green and orange cotton trousers, orange t-shirt and long lime-green cardigan. This startling, almost fluorescent combo became my summer teaching uniform. My clothes expressed all my aspirations to what was then called trendiness, a necessary qualification for living in Brighton in the 1980s. One of my male colleagues, Dave the Maths teacher, looked at me disapprovingly one day as I stood in the school dinner queue – 'You just look so trendy!'. That was exactly the effect I was hoping to achieve. Another colleague, a woman this time, told me that students with problems would always talk to her, not me, because I was 'too trendy'. She may have been right – but I was not sure I wanted to hear about their problems anyway. I preferred guiding them through ever more difficult French newspaper and magazine articles – they groaned as I handed out the endless photocopies – or great works of French Lit. I had one group who were actually interested in the latter, and with them I was able to put on a production of Sartre's Les Mains Sales in French, a didactic piece about revolutionary politics. The students loved the existential dilemmas, and the opportunity to swagger about on the stage with pretend guns.
At Christmas there was a staff review, so I got the chance to swagger on the stage myself, playing a French housewife, Froufrou, in a sketch written in franglais. It brought the house down because it involved a liaison between me and the French assistant, André, and of course sex between teachers is both a complete taboo and the dominant fantasy of students. My class, who had clearly developed a whole narrative about me and André, shouted 'c'est la preuve' among the general screams of delight of the audience, as André and I kissed melodramatically, only to be interrupted by my 'husband', Dave of the dinner queue.
The following year I had an existential dilemma myself – a sketch was chosen in which I was to play Rapunzel using my best Wolverhampton accent. There were a lot of arguments about the script between me and Dave, who kept inserting 'phallic humour' into what I considered to be a feminist sketch. Then History Man got me a surprise present – tickets to see 'The Eurythmics' but oh no the concert was on the same night as the end of term review. I was torn between the chance of speaking my native tongue in public and wearing a long blonde wig, and seeing Annie L. herself in the flesh. I chose the latter and was only a tiny bit disappointed not to be on stage myself.
The staff review was not the only Christmas celebration in the college – the last day of the term was fancy dress day. One year a group of us decided we would dress up as Goths. On the train journey the art teacher Holly did her best to improve our look with assorted jewellery and scarves, almost black lipstick, dark purple eyeshadow and pale foundation. I didn't really need the foundation as I was pretty pale anyway most days on the 8.12, and I had already daubed my lips cherry red. The students quite liked our efforts but were very clear about whose outfit looked right (Holly's) and whose didn't (mine). The blonde spikes just could not be made to look goth. And I think they suspected that underneath my black floaty dress and Tuesday market coat there was a lime-green cardy trying to get out.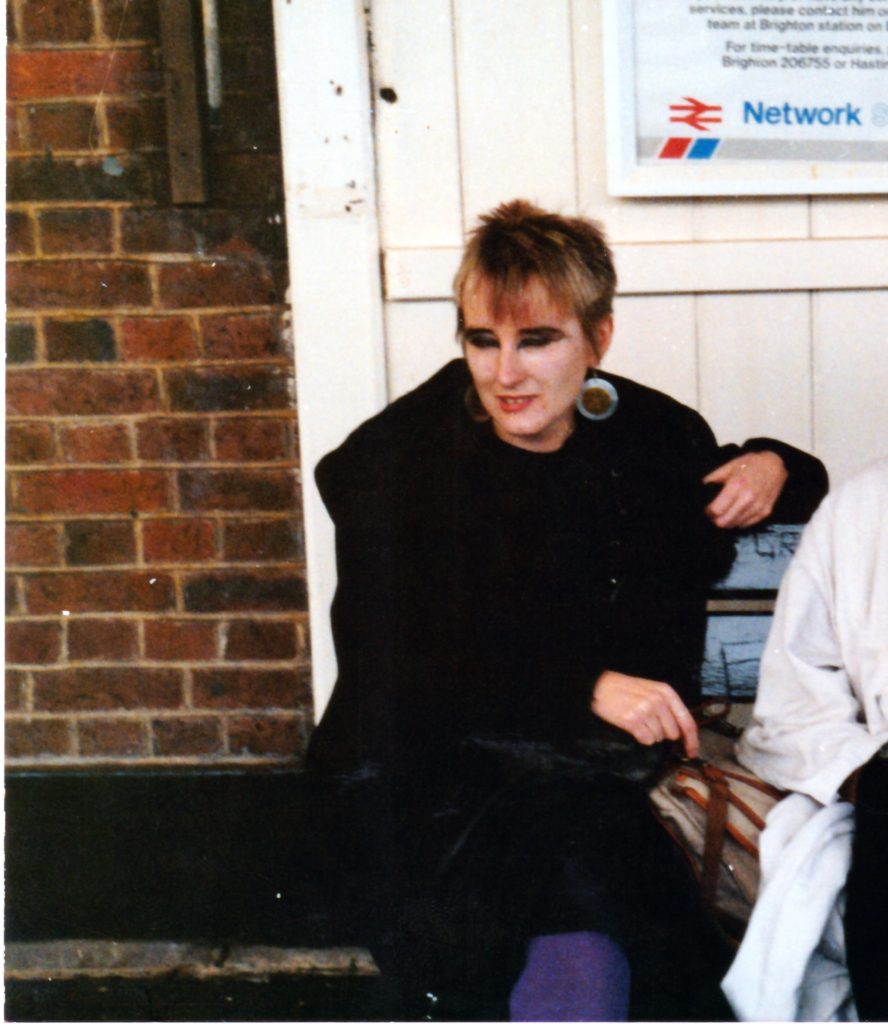 Spiky-haired 'Goth' on Network South-East, circa 1986