When I arrived in my Oxford college in October 1971 I owned exactly six outfits including my blue and white school uniform, which fortunately could pass for ordinary clothes, and my blue paisley interview dress. The gold buttons dress had long since lost its shine. Although my wardrobe was small, it was perfectly coordinated: there were two 'cords and skinny rib jumper' outfits, one in dusty pink, and one in black. Then there were two more jumpers given to me by a German family I had stayed with that summer. One had purple splodges and went well with the pink cords; the other had turquoise and black stripes and was perfect with the black cords.
The cords and jumper outfits turned out to be very practical for cycling down to the Taylorian Institute where the Modern Languages lectures were held, or down the Cowley Road, where I visited an old lady, Mrs Pratt every week, after my tutorial. I had joined the University's TOC-H group, a Christian social work organisation, and after a scary afternoon at an adventure playground in Blackbird Leys decided that visiting old ladies suited me better. That post-tutorial time of the week was a moment of glorious freedom, with several free days ahead before the next essay and inevitable crisis loomed, and I celebrated by cycling down to Mrs P's at top speed. I hit it off with Mrs Pratt and her grandson, who I also visited occasionally during his sojourns in Oxford jail. He was very amused that his grandmother was getting visits from an Oxford student, and asked me more than once if my college had much silver. Mrs P. just laughed and told him off. She was disappointed that I did not wear my gown to visit her, so once, after exams, I went down there in full academic dress, and she was tickled pink at having a real Oxford student to tea.
In college I was making friends too. One evening I was having coffee with my new best friend Sarah when the girl from the room next door, Angela, popped in. She looked me up and down (I was in the black outfit) and said in a very posh voice 'Do you always wear black?' The tone was rather approving, and I realised that the outfit my mother had got out of her Grattan catalogue might actually be quite cool. I didn't know much about existentialism, but Angela's admiring gaze somehow transported me to a smoke-filled café on the Left Bank. I finished my cocoa, trying hard to keep up the impression of sophistication I had quite accidentally created, and went back to my room thinking I should perhaps wear the black combination more often.
Despite this success, it was not long before I realised that my clothes really were not adequate for the requirements of Oxford. I started meeting men and being invited to their colleges for dinner, and then invitations to sherry parties started to appear in my pigeonhole. I had no idea why I had been invited or who had invited me, and I was amazed by the questions students from other colleges asked me at these 'dos'. 'What are your plans for your Oxford career?' When I said that I just wanted to pass my exams so that I would not be thrown out, I knew it was not the right answer. Even worse – 'What are you going to do after Oxford?' I thought about my afternoons with Mrs Pratt and said I wanted to be a social worker. The riposte 'Are you a Christian or a communist?' threw me into further confusion. I wasn't sure, perhaps both.
My paisley dress with its white collar and home-made look really was not helping me with these interrogations. I rang my mother, and she said she would get my Aunts (both tailoresses) to make me a long skirt. A length of material with purple and black swirls was purchased on the market, and my Aunts soon had the skirt tacked up. I went home for the weekend for a final try-on, and it fitted perfectly. My mother was worried that winter was coming and I did not have a warm coat, so she took me up to town, and in a tiny little shop we found the perfect one. Well, almost perfect – it was a little tight, but I was not going to let that stop me getting it. It was purple, full-length, and it had a hood. My first and only maxi-coat. It was the ideal coat for wandering the still gas-lit, cobbled streets of central Oxford, or for a romantic rendez-vous by the river.
When I got back to Oxford with my new coat and skirt, I decided to splash out on a top to complete the outfit. I went to a shop called Campus on the High Street, and after spending some time gazing longingly at the romantic long dresses and ball gowns, I found a white blouse with leg of mutton sleeves and a mandarin collar, all decorated with lace. I spent what seemed to me the massive sum of six guineas on this blouse, but I knew that it was what I needed for Oxford socialising, and that I could wear it over and over again.
In February 1972, in my second term, life took a more romantic turn. I became the secretary of TOC-H, and the President asked me out (I'm no longer sure of the order of these events). The miners were on strike and regular power cuts became a feature of daily life. Candles were placed on all available surfaces to light the gloomy corridors of St Hugh's. Living in a candlelit Oxford college just added to the sense of unreality I often felt about the whole Oxford thing. Despite my proletarian origins I thought very little about the miners and rather a lot about candlelit trysts with my new paramour. When North Oxford had light, south Oxford was in the dark, and vice versa, so it was sometimes quite expedient to have a boyfriend in a college on the other side of town. On one of the nights when we were plunged into darkness, I was invited to a special dinner at my new boyfriend's college. I struggled to apply purple eye shadow and pale lipstick by candle light, and put on my new plumes. I had learnt that crucial Oxford skill of cycling in a long skirt, and I almost floated down South Parks Road, with my hood up, and one hand manoeuvring the long coat and skirt. At a quick glance, as I lent my bicycle against the railings outside Merton college, I could have been taken for a medieval monk, rather than a 70s slave to fashion. As I sat on the balcony above the dining hall, and was served tournedos steak and wines I had never heard of, I was lost for words, but at least I knew that in my white Campus blouse and swirly skirt I looked the part.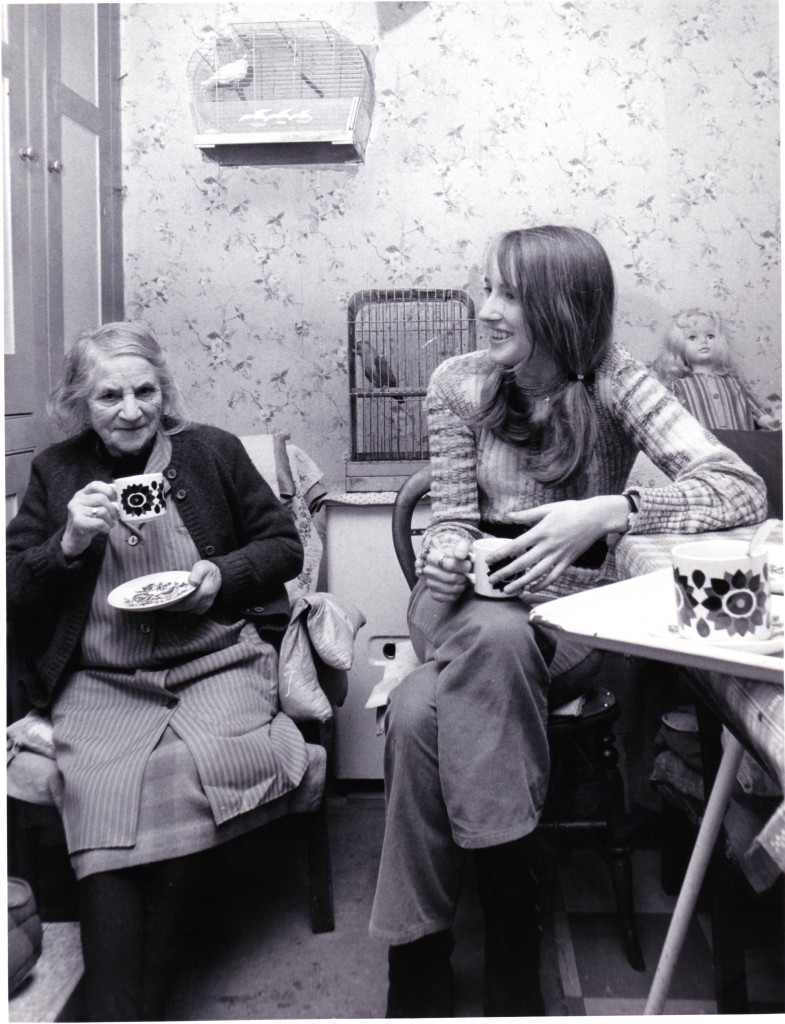 With Mrs Pratt, wearing the pink cords and purple splodge jumper.
Save